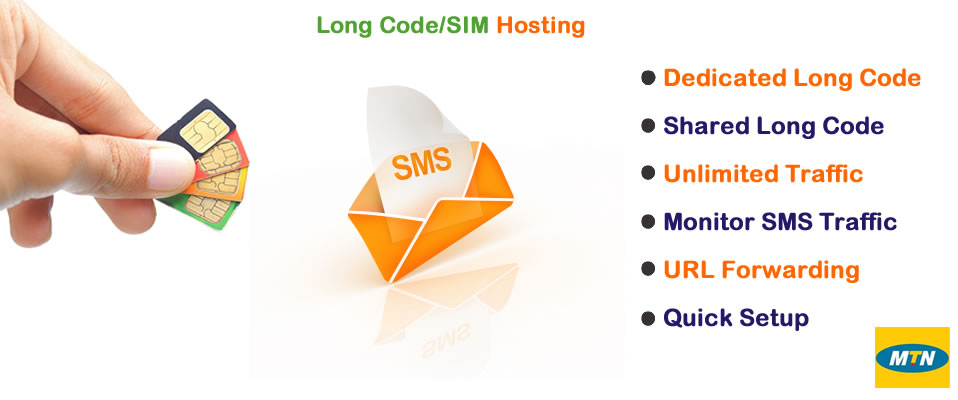 The amazing proliferation of mobile phones users in Nigeria has unraveled the untapped opportunities that lie within the telecom industry. Hence SMS marketing is becoming one of the most effective methods of communication. It is now "The Technological Wings" for the Mobile IT futuristic flight. Brace yourself.....

What is SIM Hosting?
SIM Card Hosting is a service where by your SIM Card is located in our data centre and running 24x7 without having your own computer / server or GSM device. We have dedicated and shared sim card hosting. Unlimited keywords comes wth Dedicated Hosting. Shared comes with one keyword. Additional keywords can be purchased. See details below.

Your will be given a Web Application to access your incoming SMS and outgoing SMS remotely anytime anywhere through internet connections.
Why SIM Hosting? Minimum setup and maintenance cost for multiple SIM cards. Enjoy lowest SMS rates in the market. 24x7 up and running system provided. 2-ways SMS - Send and receive SMS to your own numbers. Escape spam filtering system from Telco.

Receives Text from All Networks: MTN, AIRTEL, GLO and ETISALAT
Dedicated SIM Card Setup Fee: N150,000.00 (Multiple SIMs attract 10% discount). Setup comes with unlimited keywords.
Quarterly Access Fee is N24,000.00. You can opt for which ever payment option that is convenient for you. Setup takes 15days to complete and it starts from the day we receive your registered Sim Card. Access fees are prepaid. However, quarterly postpaid access fee are acceptable.

Shared SIM Card Setup Fee:N92,000.00 (It takes 48 working hours to setup) . Setup comes with one(1) keyword. No monthly fees. Additional keyword is N40,000.00.

Hosted SIM: Only MTN SIMs can be hosted. Our shared sim numberis already integrated in our server. You can provide your own sim on the dedicated platform. If you have an existing application, we can forward all incoming sms via our HTTP PUSH method.

Bulk SMS Credits: If you want to reply your subscribers, then you will need to buy sms credits from us
Usual parameters for our PUSH method are:
• %receiver% -number received the message
• %sender% - number sent the message
• %text% - message text
• %when% - time of message sent
• %dc% - encoding value